Something good may be set to come out of the current 'crisis' situation at Chelsea after all.
It's hard to find many positives at the moment. We have a manager who's on the brink, but we're yet to find a replacement, nor agree a deal for his exit.
We have an owner who's not allowed in the country and has subsequently put plans to redevelop the Bridge on hold. Not to mention that our squad is riddled with mediocrity and we face a season of Europa League football.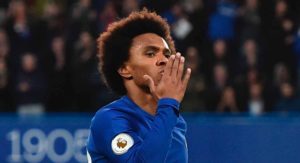 However, in the midst of all of the drama, our players' player of the year could be set to stay put. According to the Metro, Chelsea are unlikely to green-light Willian's exit at this current time. The Brazilian appears to have fallen out with Conte, but it unlikely that he'll be in charge come the start of next season.
The report claims that Manchester United manager Jose Mourinho is extremely keen to reunite with Willian at Old Trafford, but unless there is any progress on the deal soon, United will be forced to move onto alternative targets. We can hope…